Sprinter Matthew Thomas branded 'common criminal'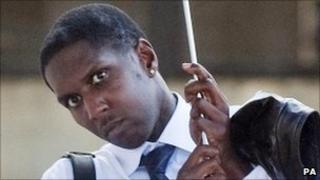 A sprinter who raced in national competitions while signed off sick has been branded a "common criminal" by a judge for defrauding his employers.
Matthew Thomas, 34, was given a four month jail term suspended for two years, at Inner London Crown Court.
He was also ordered to repay nearly £12,000 he had taken from his employer, Newham Council.
Thomas, of Purley Bury Avenue, Purley, Croydon, south London, was found guilty of seven counts of fraud in August.
Judge Nigel Gerald told Thomas: "You were a person of previous good character, held in esteem by your community.
"You have stated your concerns that you have now been branded as a common criminal, but that is because that is what you are."
He was also ordered to carry out 250 hours of unpaid work and to pay £8,000 in costs.
Video footage
Thomas competed and held coaching sessions for youths between November 2007 and June 2008.
The Newham Council payroll officer was paid £13,892.12 while on sick leave.
The jury had been shown video footage of the defendant running while signed off work.
He was caught on camera training youngsters at Croydon athletics track in April 2008 and was filmed again in May 2008 as he undertook sprints at Crystal Palace.
He also coached youngsters through the Metropolitan Police's Met-Track scheme before resigning from the role in June 2008.
The court heard he raced in the Birmingham Athletic Games in February 2008 and the Surrey County Indoor Championships a month later.
Thomas, who denied all the charges, was found guilty of seven counts of fraud by false representation after he submitted sick notes claiming he was unfit to work.
He was cleared of three counts of fraud by false representation and one count of fraud by failing to disclose information relating to his athletics coaching.
Speaking outside court, Richard Crawford, of Newham Council, said: "We take it very seriously that the tax payers of Newham have been defrauded in this way.