Human rights protester Peter Tatchell gets blue plaque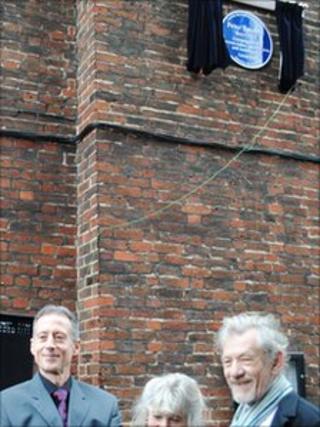 Human rights campaigner Peter Tatchell has been honoured with a blue plaque at the south London estate where he lives.
Mr Tatchell - co-founder of the direct action group OutRage! - has been championing civil liberties and gay rights in the UK since 1971.
The plaque, at his Southwark home, was unveiled by the actor Sir Ian McKellen.
Mr Tatchell said he hoped it would encourage others to campaign for "human rights and social justice".
He added: "I have lived in Southwark most of my life and I am very proud to be part of its long, illustrious history of distinguished authors, playwrights, scientists, inventors and social reformers."
The plaque, which was organised by Southwark Council, joins others honouring the engineer Isambard Kingdom Brunel and comedian Charlie Chaplin in the area.
Sir Ian said: "We're very lucky to have Peter with us - what he asks for is no more or less than freedom, and I couldn't be a stronger supporter of him.
"He's my hero, and to honour heroes is a good thing to do.
"It's absolutely sensational that there is a blue plaque here."
Mugabe arrest attempt
Mr Tatchell was among those who led protests against the Pope's recent state visit to Britain.
He said it was inappropriate for taxpayers to foot the £12m bill for the four-day visit because of the Pope's "harsh and intolerant" views towards homosexuals and women's rights.
He recently campaigned against a 14-year jail sentence for a gay couple in Malawi and claims to have received brain injuries after receiving a "beating" at a rally in Russia.
In 1999 the campaigner tried to carry out a citizens arrest on Zimbabwean president Robert Mugabe, accusing him of torture.