Victoria Tube station reopens after smell closure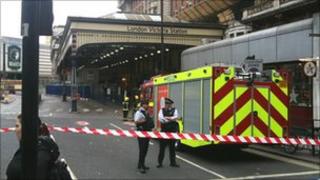 Eight people, including two passengers, complained of headaches and nausea when an "unusual smell" was reported at Victoria Tube station in London.
London Fire Brigade, paramedics and British Transport Police (BTP) were called to the station at 1318 BST.
But following its evacuation the BTP said tests showed there were no hazardous substances present.
The station reopened at 1618 BST and there are currently no delays on the line.
A BBC correspondent at the scene said four of the eight who felt ill had taken themselves to hospital.
It is believed the smell was coming from a temporary ticket office.
Four people who reported feeling unwell were treated at the scene.
'I felt terrified'
Ambi Sitham was one of the people affected by the closures.
She said: "I was just outside the Tube station when I saw police, ambulances and fire engines.
"The entrance was cordoned off. There were loads of people confused, nobody knew what to do.
"It's a busy station so lots of people were there."
Ms Sitham continued: "They had evacuated shops in the area. I felt terrified.
"I am still feeling very shaken. The smell was funny and chemical."
A statement from London Ambulance Service said: "Three ambulance crews, a duty officer and a hazardous area response team were dispatched."
A statement from British Transport Police said: "Officers were called to a London Underground ticket office at Victoria rail station after staff reported an unusual smell.
"A number of members of staff reported feeling unwell.
"Firefighters from the London Fire Brigade carried out tests which established there were no hazardous substances present. A gas leak has been ruled out."
A Transport for London spokesman said: "Staff in the temporary London Underground ticket office at street level just outside Victoria national rail station reported a strange smell.
"As a precaution Victoria Underground station was closed and all the emergency services were called.
"Four members of staff felt unwell but were not taken to hospital. The smell is still being investigated."