Heathrow crash pilot Peter Burkill to rejoin BA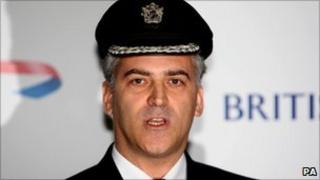 A captain who oversaw the crash landing of a British Airways plane but then quit over rumours about his handling of the incident is rejoining the airline.
Peter Burkill was hailed a hero after 152 people on board survived when the jet lost power approaching Heathrow in January 2008.
In his blog Mr Burkill, of Worcester, said it was a "privilege" to return.
A BA spokesman said the airline "would welcome Peter back as a captain".
The pilot, who quit BA in August 2009, had signed up for Jobseeker's Allowance soon after leaving the company.
The captain and his crew were awarded the BA Safety Medal following the incident. Senior first officer John Coward brought the plane, from Beijing, to land.
The official report by Air Accidents Investigation Branch (AAIB) said the crash happened after the plane lost power because there was a restricted "fuel flow" to both its engines caused by a build-up of ice.
Mr Burkill said: "I am delighted that the discussions with British Airways, have come to a mutually, happy conclusion.
"In my opinion British Airways is the pinnacle of any pilots' career and it is my honour and privilege to be returning to an airline that I joined as a young man.
"We are looking forward to resuming a 'normal' life and anonymity once again."
In March, Mr Burkill told the BBC he was "hurt" by "negative" rumours about his actions during the incident.
He said: "They'd (cabin crew) been told by their training school that I hadn't done a number of things in the flight - that I'd actually frozen and hadn't done anything in the flight deck, and I hadn't transmitted that May Day call, and that I hadn't done the evacuation call.
"That really hurt me."
Mr Burkill also said that he had left BA for another job, which "fizzled out".
'Not forced out'
Last year his wife, Maria Burkill, had said there were "no interviews" for her husband as many airline companies "won't accept anybody who's ever had an accident."
The BA spokesman said the pilot had been offered a contract.
"He was not forced out. He was among a number of pilots who took voluntary redundancy but we are now taking him back again.
"We would welcome Peter back as a captain to our Boeing 777 fleet."