London sewage to nourish golf greens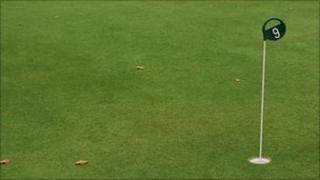 An ingredient used for fertilizer worldwide is to be extracted from London's sewage.
From its plant in Slough, Berkshire, Thames Water is to start extracting phosphorus from the city's waste before turning it into premium fertiliser.
Phosphorus is usually mined in the US, Russia and China, with worldwide stocks running low.
The new fertiliser will be processed and sold by Canadian company Ostara to nourish golf greens and gardens.
When left in sewage, phosphorus settles inside pipes, narrowing them.
Piers Clark, of Thames Water, said: "This project is a classic win-win.
"We solve a costly problem and in so doing provide a renewable source of phosphate, a nutrient in increasingly short supply, which will please gardeners and golf course green keepers."
Lord Peter Melchett, of the Soil Association, said: "For more than 50 years we have mined phosphate, but supplies are running out.
"This initiative is a significant step in the right direction."