Pupil mentoring scheme launched across London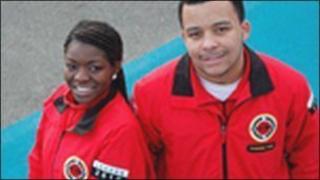 A volunteering programme where young people will mentor children in inner-city primary schools across London has been launched.
Wearing red jacket uniforms, the volunteers will work as tutors and role models as well as leading programmes and community projects.
They will receive a £1,000 citizen service award to help them with education and employment cuts.
London Mayor Boris Johnson said it was vital to develop young people's skills.
The Mayor's Fund is one of the financial supporters of the scheme organised by youth volunteering charity City Year London.
Mr Johnson said: "There is nothing more important than developing the skills and improving the employability of young adults in London.
"I am therefore delighted that we are supporting this outstanding volunteering programme which encourages young Londoners to engage with their communities and help increase the academic achievement of school children.
"City Year has a successful track record in the USA and I am excited that the Mayor's Fund is helping this important programme to transform lives and opportunities in the capital."
Originally founded in Boston in 1988, City Year now operates in 20 locations in the US and in Johannesburg, South Africa.