Crossrail not to lose branches or stations for savings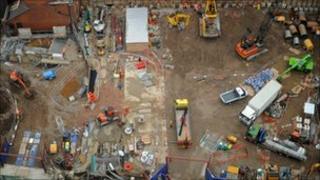 The £16bn Crossrail scheme will not lose any of its planned stations or branches in order to save money, Crossrail Limited (CRL) has said.
But CRL will not design a new train for the 72-mile (116km) route across London and aims to redesign Whitechapel and Canary Wharf stations.
It also plans to make use of disused rail infrastructure for most of the Abbey Wood branch.
Crossrail chairman Terry Morgan said CRL wanted "maximum value for money".
Crossrail, when it begins services in 2017, will connect Maidenhead, Berkshire, with Shenfield in Essex via the West End and Canary Wharf, with a link to Heathrow Airport in west London and Abbey Wood in south-east London.
The scheme is expected to bring benefits worth £42bn to the UK economy.
'Sensible efficiency savings'
In May, London Mayor Boris Johnson raised doubts about whether the project would go ahead "in its entirety" - suggesting that the Abbey Wood and Maidenhead branches could be threatened by the coalition government's cost-cutting plans.
But a month later Transport Secretary Philip Hammond committed the government to delivering the full project.
CRL said it would model its new trains on "tried and tested designs" rather than designing a new train.
Mr Morgan said: "Crossrail and its delivery partners recognise fully that Crossrail is a significant investment.
"It is critical that every pound invested in this vital scheme achieves maximum value for money. Sensible efficiency savings will be made at every opportunity.
"Crossrail is bearing down on its whole cost base, while ensuring delivery of a new railway that is fit for purpose and delivers the capacity improvements required."