London firefighters begin industrial action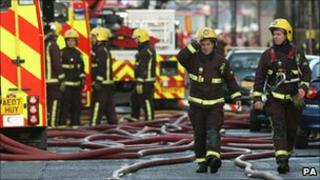 Firefighters in London have begun a campaign of industrial action in a row over new contracts.
The Fire Brigades' Union (FBU) said the action started at midnight over London Fire Brigade's refusal to withdraws plan to introduce new shift patterns.
Members will refuse to work overtime or undertake higher duties and have withdrawn from voluntary projects.
London Fire Commissioner Ron Dobson has said firefighters cannot be exempt from experiencing change.
Thousands of FBU members are also being balloted on strike action, with the result due on 14 October.
The union would have to give seven days notice of any walk-outs.
The union's general secretary Matt Wrack said: "Firefighters hate taking industrial action, and what we want to do is negotiate, not strike.
"We understand that the London Fire Brigade wants to change the shift patterns our members work, and we are willing to continue the negotiations over shift patterns in good faith.
"We would also be willing to lift all industrial action as soon as they withdraw the sacking notices."
Time for training
London Fire Brigade Commissioner Ron Dobson said: "This is totally unnecessary.
"These changes are about doing all that we possibly can with existing resources to make Londoners safe."
Councillor Brian Coleman, the chairman of the fire authority, which runs the London Fire Brigade, called for the dispute to be resolved.
He said: "I expect changes to the way the fire and rescue service is run to generate debate, but there is no need for firefighters to lose money by taking strike action that will not resolve this dispute."
Longer day shifts will provide firefighters to get specialist training, which "has helped to reduce the number of fires in the capital by 48% in the last nine years," he added.
He said the brigade would continue talks with the union over a compromise plan to introduce 11-hour day shifts and 13-hour nights. The shift pattern of two days, two nights and four days off will remain unchanged.
Currently, firefighters work on nine-hour day shifts and 15-hour nights.