Film of Chelsea gun lawyer Mark Saunders shooting shown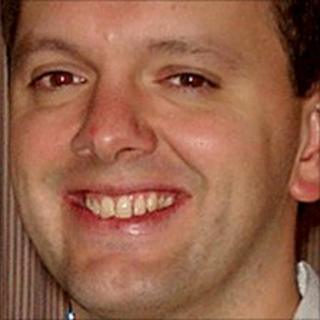 The moment a drunken barrister was shot dead by armed police following a siege has been played to a coroner's court.
Mark Saunders, 32, was involved in a three-hour stand-off at his Chelsea flat in 2008 after firing a shotgun into a neighbouring flat.
Westminster Coroner's Court was played footage of the siege filmed from a police helicopter.
The officers say they were forced to fire to protect their safety. Mr Saunders' family say he posed no risk.
The footage shows the lawyer dangling from the window of his fourth-storey flat and waving a shotgun.
Negotiators are shown pleading with him through a loud hailer.
The film then shows a volley of gunfire from police ringing out as Mr Saunders' moves his gun into a horizontal position.
The lawyer doubles up and is thrown into the kitchen by the force of the bullets.
The court has heard seven officers fired in total, their shots hitting him in the chest and neck.
The court also heard audio recordings of police tactical discussions and a 999 call from Mr Saunders.
One officer privately described him as "absolutely hammered".
'That is the deal'
Police regularly told Mr Saunders he was not going to die and begged him to put the gun down.
They could hear the weapon's safety catch being turned on and off, along with the lawyer both vomiting and drinking wine.
Supt John Sutherland, who carried out most of the negotiations, told him: "You are not going to burst out and you are not going to get gunned down.
"Nobody is going to get hurt today. That is the deal."
Supt Sutherland continued: "Lets talk about the positives and what happens when you come out.
"You get to see the people you love and love you.
"This is about beginnings not endings. You have got a future Mark."
When the officer stopped speaking, the recording captures Mr Saunders' shotgun and the return fire of two police officers.
Supt Sutherland then said: "What are you doing Mark? Mark, speak to me please."
He then told colleagues: "The last thing he said to me was, 'I am going to blow off some steam'."
Mr Saunders' last intelligible communication was a warning that it would be "painless" to kill himself and a plea to speak to his wife.
'Dotty about wife'
Police then had a discussion between themselves about how best to act.
Police discussed tactics with one saying he was "clearly dotty about his wife" and suggested that could help them "engage with him emotionally."
Another said: "This is not a bloke who wants to die. He has already mentioned two things about the future.
"The biggest danger is he shoots himself by mistake or comes wandering out with his gun and gets popped."
The court has already heard that both his wife and best friend were prevented from talking to him by police.
However officers told Mr Saunders he could talk to his wife if he came out of the flat.
The hearing continues.