Talks to avert Tube strike end 'without agreement'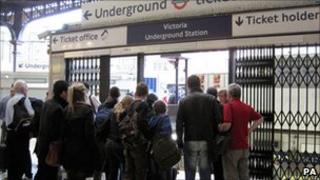 Another 24-hour Tube strike is likely to go ahead from 3 October, the Transport Salaried Staffs Association (TSSA) union has said.
Talks aimed at averting more strikes by London Underground (LU) ended without agreement on Wednesday.
Tube workers in the TSSA and Rail Maritime and Transport (RMT) unions are planning to strike.
They are angry over plans to scrap 800 jobs in ticket offices, but LU bosses say the offices are barely used.
Earlier in September, workers from the two unions went on a 24-hour strike.
Further strikes are scheduled for 3 October, 2 November and 28 November.
'Hard bargaining'
The RMT and TSSA said insufficient progress had been made in talks with Transport for London to call off the industrial action.
The TSSA said its leaders will be away next week at the Labour Party conference in Manchester.
"We have had a day of hard bargaining but as things stand tonight, the next strike is still on," said TSSA deputy leader Manuel Cortes.
"We hope to hear something positive from LU by Friday - the ball is now firmly in their court."
RMT leader Bob Crow said: "We set out proposals in line with our objectives of protecting safe staffing levels and we await a formal response."
LU chief Howard Collins said: "Despite their claims that this dispute is about safety, the unions' leaderships have not put a single safety-related issue to us."
"Our plans have no impact on safety standards and their members are safe from the threat of compulsory redundancies."
The talks are being organised by Acas, the conciliation service.