Baby P mother denied inquest representation funding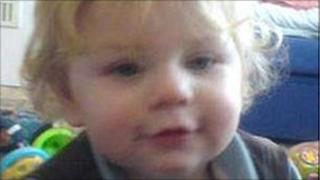 Baby Peter's mother and her boyfriend have been denied public funding to be represented at any resumed inquest into the child's death.
A pre-inquest review was told Tracey Connelly and Steven Barker had not been given funds for legal representation.
But the hearing was told Barker is appealing against that decision.
The coroner said arguments in favour of resuming the inquest, or against doing so, should be served by the various parties by 15 October.
In May last year, Connelly, Barker and Barker's brother, Jason Owen, were jailed at the Old Bailey for causing or allowing the youngster's death.
'Representation unlikely'
BBC London has reported the Metropolitan Police does not favour a resumption on the grounds child protection services have improved greatly since the tragedy, while the child's father said he wanted an inquest to take place.
Hugh Davies, representing the Metropolitan Police, told North London Coroner Andrew Walker at the hearing in Barnet: "Public funding has not been extended to Steven Barker or Tracey Connelly, so it is unlikely they will be represented in these proceedings."
But Julien Foster, representing Peter's father, who cannot be named, told the coroner that Barker's representatives were appealing against the decision not to grant public funding.
They would seek to appear at the next pre-inquest review on 3 and 4 November, he added.
Peter Connelly was 17 months old when he was found dead in his blood-spattered cot in Tottenham, north London, in August 2007.
He had 50 injuries including fractured ribs and a broken back.