Billingsgate Fish Market porters hand in petition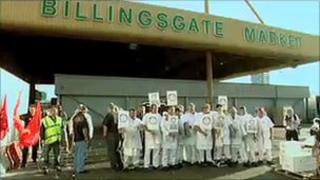 Fish porters are to hand in a 20,000-signature petition against planned changes to the way Billingsgate market is run.
The workers want the City of London Corporation to abandon plans to revoke a by-law which means that all porters are licensed by the market.
Staff claim this could lead to jobs losses and threaten the future of the market.
The corporation has said the by-law was out of date.
The petition will be handed in at London's Guildhall by the fish porters, who are members of the Unite union.
Pointless changes
According to the corporation the by-law relevant to porters permits the market superintendent to license anyone of "good character and fitness" to be a porter.
It said it was "obsolete, out-of-date, irrelevant in modern times" and did not guarantee jobs or the standards of porters.
But the union claims revoking the laws that govern the "efficient running of Billingsgate market" would threaten porters' jobs.
Steve Hart, the union's London regional secretary, said: "It is now time for the City of London Corporation to come to their senses and abandon the pointless changes being planned for Billingsgate market.
"The fish porters have the support of over 20,000 Londoners in their opposition to the fundamental changes being proposed."
The market, which can be traced back to 1327, began trading exclusively in fish following an Act of Parliament in 1699.
Every year about 25,000 tonnes of fish is sold, generating £200m.