London van and minibus emission zone delayed until 2012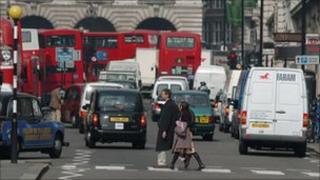 London's mayor has confirmed that larger vans and minibuses will not be required to meet Low Emission Zone (LEZ) standards until January 2012.
These vehicles were originally due to be included in the LEZ from October 2010.
The Mayor's office said Boris Johnson had given the estimated 70,000 owners of these vehicles extra time because of the "tough financial times".
But London's Green Party called the delay "unjustified dithering".
Former London mayor Ken Livingstone introduced the LEZ in February 2008. The scheme requires owners of large lorries, buses and coaches to meet emissions standards.
The extension will see vans and minibuses meeting the same standards or face a £500-a-day fine.
'Crucial' issue
"This is unnecessary and insensitive dithering from the mayor," said London Assembly Green Party Member Darren Johnson.
"Thousands of Londoners are dying each year because of London's high emissions," he added.
But the mayor's transport advisor Kulveer Ranger said: "The mayor is committed to making London the best big city in the world and therefore we must tackle the crucial issue of cutting pollution.
"We have given those drivers who will be affected by these changes extra time in order to get their vans and minibuses up to scratch in what has been tough financial times."
Unlike London's congestion charge zone, which is lifted in the evenings and at weekends, the LEZ is be in force 24 hours a day, every day.
It also covers a larger area of 610 sq miles (1,580 sq km).