Shot Chelsea lawyer Mark Saunders 'asked for his wife'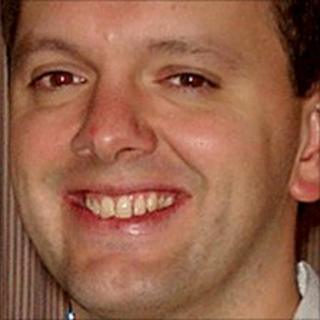 The widow of an alcoholic barrister who was shot dead by police during a stand-off told an inquest she could have defused the situation.
Mark Saunders, 32, was hit in the head and chest by five police bullets at his Chelsea home in May 2008.
Elizabeth Saunders told Westminster Coroner's Court: "I know that Mark would never, ever have hurt me."
Mr Saunders asked negotiators if he could speak to his wife, but she said police told her to turn her phone off.
Mrs Saunders, also a barrister at QEB chambers, said that her husband told their senior clerk he had been "firing his gun and that the police were coming and he was in trouble" in a phone call shortly before 1700 BST.
Blank text
She made her way home but was stopped at the police cordon. Officers then asked her to switch off her mobile phone.
She said she heard a "lot of commotion" but did not know her husband was dead until 2230 BST.
Later when she switched on her phone, she found a blank text from him.
Mrs Saunders said: "That would have been the only time in our relationship that he sent me a text message and he did not get an immediate call from me saying, 'Darling, I am here'.
"That is very difficult for me, but there it is. I did not know he had called."
She told the inquest: "The truth of our relationship was Mark and I loved each other.
"I think he would have just said 'Darling, I am sorry'. And I would have said 'Sweetheart, it is OK. Do not worry, we will sort this out'."
The inquest also heard that Mr Saunders had texted Alex Booth, the best man at his wedding, during the stand-off.
The message said: "This is the end, my only friend, the end."
Mr Booth told the court they would often quote films and music to each other, and the message appeared to be quoting from a song by The Doors used in the film Apocalypse Now.
The hearing was told Mr Saunders had been attending Alcoholics Anonymous and sought help from his GP to control his drinking.
The family law expert had been prescribed anti-depressants and had also taken cocaine in the months leading up to his death.
'Love for life'
Mrs Saunders said she thought he had been drinking heavily on the day of his killing.
She said her husband was a "very sensitive and caring man" with "huge energy and love for life".
Mrs Saunders said he had been teetotal apart from a few "blips".
She said: "There were occasions, probably every three months or so, when it went wrong."
On the day of his death Mr Saunders had been out on various errands and seemed "very happy".
Cab driver David Hay, who dropped him later in the day, told the inquest: "He looked straight at me, and just said, 'I'm going to die'."
The death of Mr Saunders, who was once in the Territorial Army, was filmed from a police helicopter.
Police had been called after neighbours saw him firing a shotgun into a neighbouring flat.
The officers say they were firing in self-defence, or to protect others.
None of them is to be prosecuted, the Crown Prosecution Service has said.
Mr Saunders' family maintain he presented no risk to the public.
The hearing continues.