Murder of Pakistani exile 'politically motivated'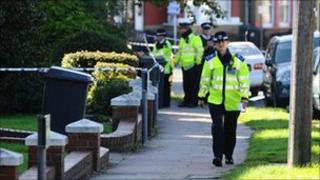 A Pakistani politician killed in London is thought to have been the victim of a politically motivated attack.
Scotland Yard's counter-terrorism unit, SO15, has taken over the investigation into Imran Farooq's murder.
Mr Farooq, a senior member of the MQM party who sought asylum in London in 1999, was stabbed and beaten outside his home in Edgware on Thursday.
His murder has sparked violence in Karachi where a 10-day period of mourning has been announced by the MQM.
The BBC's home affairs correspondent, Danny Shaw, said although no-one had been arrested, the working assumption at this stage was that the killing was politically motivated.
Personal protection
The exiled politician was living in London with his wife Shumaila and their sons, aged three and five, in Green Lane.
Mr Farooq died about an hour after being found.
A Metropolitan Police spokesman said: "When officers arrived they found an Asian male, aged 50, suffering from multiple stab wounds and head injuries.
"He was treated by paramedics at the scene but was pronounced dead at 1837 BST."
Following his death security forces were deployed on the streets of Karachi where vehicles and shops have been set alight.
Petrol stations, schools and markets across the city closed as public transport ground to a halt at the start of a 10-day mourning period announced by the MQM (Muttahida Qaumi Movement).
The security of other Pakistani politicians living in London is understood to be under review.
Raza Haroon, a member of the MQM central co-ordination committee, said his friend had "so many enemies" but did not have any personal protection.
He said the killing could have been politically motivated because Mr Farooq was "outspoken and because of his affiliation with the MQM".
The former Pakistani parliamentarian was one of the founding members of the MQM, a former opposition party which is now part of the ruling PPP-led alliance.
It is believed the London headquarters of the MQM moved several months ago as a result of security concerns.
Mohammad Anwara, a friend and colleague of Mr Farooq, said his killing had come as a "huge surprise".
"We are in a state of profound shock and we are very sad," he said.
He refused to comment on whether the murder was politically motivated but added: "This does not seem to be a robbery or burglary."