London firefighters vote for industrial action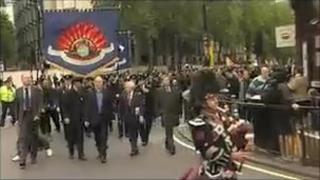 Firefighters in London have voted in favour of industrial action in a row over shifts and new contracts.
Members of the Fire Brigades Union voted nine to one for action short of a strike, which could include a ban on overtime and withdrawal of good will.
The row centres on London Fire Brigade's plans to scrap current shifts and get crews to sign new contracts.
London Fire Commissioner Ron Dobson said firefighters could not be exempt from experiencing change.
Mr Dobson said: "The strength of feeling regarding the proposals to change start and finish times has always been fully understood, and reflected in the length of time we have been discussing these changes."
He said the involvement of national negotiators would now be sought to try and resolve the dispute.
Mr Dobson said the brigade would also now try to assess the potential impact of industrial action.
General Secretary Matt Wrack said the vote showed the strength of feeling among the firefighters.
The London Fire Brigade (LFB) has said the move from the current nine-hour days and 15-hour night shifts would improve efficiency.
But the union claims the new pattern of longer days and shorter night shifts could endanger public safety as stations might be closed at night or have reduced staff.
Strike ballot
Mr Wrack said: "This overwhelming vote demonstrates the strength of feeling among London's firefighters.
"London Fire Brigade can ensure there is no industrial action by returning to negotiations and accept that shift patterns and conditions of service should be negotiated and agreed not imposed by threatening sackings."
The union said members had backed a call for action, short of a strike, by 4,014 to 201 - a majority of 95% with a turnout of 76%.
The union plans to hold another ballot for strike action in the coming weeks.
On Thursday hundreds of firefighters took part in a protest march in central London.