Roma rights campaigner jailed for £2.9m benefits scam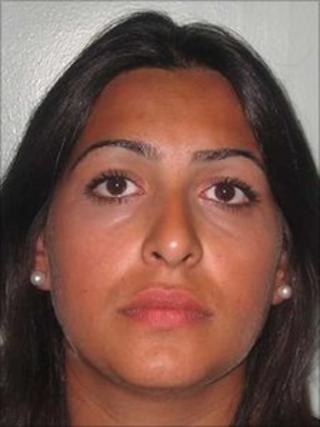 A woman who helped more than 170 Romanians illegally claim £2.9m in benefits has been jailed for two years and three months.
Lavinia Olmazu, a leading campaigner for the rights of Roma (Gypsies), helped mastermind the scam involving 172 members of the Romanian community.
Olmazu, of north-east London, gained access to them through her work with Haringey and Waltham Forest councils.
The 31-year-old admitted a fraud charge at Southwark Crown Court in July.
As well as working as an outreach worker with the councils, the university graduate was involved with the Big Issue.
She set up companies with her boyfriend to help facilitate the frauds they carried out as part of a gang.
'Abused position'
Sentencing her, Judge Deborah Taylor told Olmazu, of Woodford Green, her role in the fraud was "made easier" by her involvement with the local authorities and charities which granted her access to people within the Roma community.
She added: "You identified individuals who wished to be involved in this scheme and in doing so, abused your position with a number of charities.
"You were a previously well-respected woman working in human rights. You have now lost your reputation by involving yourself in this fraud."
Immigrants from Romania are not entitled to a National Insurance number, and therefore a number of benefits, unless they can prove to the authorities they have been employed.
The court heard Olmazu and her partner, unemployed Alin Enachi, would offer false documents for money to the migrants purporting to be from their employers, and also provided them with fake references.
Migrants would pay in cash for help with their applications before going on to receive benefits, such as child tax credits, working tax credits and child benefit, if their applications were successful.
Olmazu, who has an 11-year-old son, admitted one count of conspiracy to supply articles for use in fraud between November 2007 and August 2009.
Enachi, 30, also of Woodford Green, was jailed for two years and eight months after pleading guilty to one count of conspiracy to supply articles for use in fraud between November 2007 and August 2009.
Olmazu and Enachi were part of a gang of eight, all of whom have now been sentenced for their part in the fraud.
A police spokesman said even though £2.9m had been claimed illegally, the scam would have defrauded the UK of more than £10m if the authorities had not intervened.
A confiscation hearing will be held at a later date, but the court heard £40,000 had passed through Enachi's account.
Det Con Melanie Groves, from the Metropolitan Police, said: "This is a clear case of Roma families who wished to improve their lives but were prevented from doing so by being exploited by their own people."