One in four council homes fails 'Decent Homes Standard'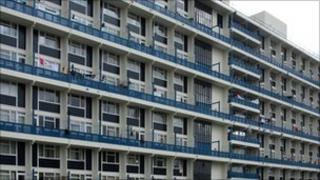 One in four London council homes is cold, run-down or outdated, government figures seen by BBC London show.
Almost 100,000 local authority dwellings have not reached the government's Decent Homes Standard.
That is despite the government promising in early 2010 that 95% of council homes would be at its benchmark level by the end of the year.
The Department of Communities and Local Government has refused to guarantee funding for upgrades.
The Decent Homes programme began in 2005 under the then Labour government.
To reach the standard a home must be free of hazards, in a reasonable state of repair and have adequate windows, heating, boilers, plumbing and electrics.
Worst in UK
Kitchens must be less than 20 years old and bathrooms less than 30 years old.
In Havering, east London, 56% of properties do not reach Decent Homes Standard - the highest figure for any local authority in the UK.
Of the council's 10,195 homes, 5,832 fail to meet minimum standards.
Councillor Lesley Kelly, responsible for Havering's housing, said: "We are working to bring all our homes up to the Decent Homes Standard.
"To ensure we receive the rest of our funding we have written to Housing Minister Grant Shapps, London Mayor Boris Johnson and are due to meet with the Homes and Communities Agency this week."
In Tower Hamlets the figure is 55%.
Funding worries
Councillor Mark Francis, cabinet housing member, said: "The government has committed £120m for us to bring our housing to Decent Homes Standard if we get a two star rating this autumn.
"But now we are worried the government is going to withdraw the funding."
A spokeswoman for the Department of Communities and Local Government said: "The Decent Homes initiative is still active and ongoing until the end of 2010.
"Its future beyond that will be dependent on the Comprehensive Spending Review."
The government is due to outline its programme of cuts in the review, due in October.