Haringey's children's services 'improving', says Ofsted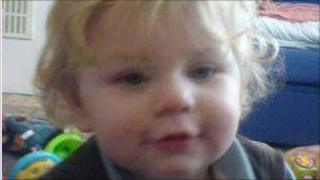 Standards at children's social services at Haringey Council have improved, a snap Ofsted inspection has found.
The north London department had been heavily criticised following the death of baby Peter Connelly in 2007.
The unannounced inspection found morale among both management and staff was good, although there were still areas for development.
The report is to form part of a more comprehensive annual review later in the year.
A Haringey Council spokeswoman said the report was evidence of the "significant progress" made since Baby Peter's case.
Prompt investigations
The Ofsted report, following the inspection on 16 September, said cases involving vulnerable children were being rigorously screened and timely decisions were being taken following prompt investigations.
The inspectors say managers have a strong commitment to good quality social work, and the pressure on social workers is being closely monitored.
Haringey like, many councils, is putting more children on protection plans, a trend linked to the failings revealed by the Baby Peter case.
But there are still areas for development, including a need to demonstrate that plans for child safety have been fully implemented when cases are closed.
Councillor Lorna Reith, cabinet member for children and young people at Haringey, said: "This report is real evidence of the significant progress made in the past couple of years across all areas of our children's safeguarding service.
"But we are certainly not complacent and recognise there is still some way to go to reach the level of the very best.
"That means a continued focus on improvement, which we are now well placed to do."
Horrific abuse
Peter was found dead in his cot at the age of 17 months in August 2007, after months of abuse.
He had been seen by health and social services professionals 60 times in the eight months before he died.
His mother, her partner and a lodger were all jailed for causing or allowing his death.
Sharon Shoesmith, the head of children's services at Haringey at the time, was sacked as a result of the death.
The Education Secretary at the time, Ed Balls, had ordered her removal in December 2008 after receiving a damning report from Ofsted on child protection in Haringey.