London millionaire guilty of trying to murder ex-wife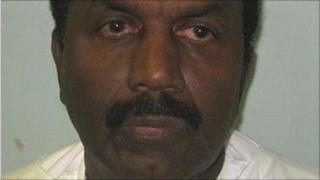 A millionaire who shot his ex-wife over fears she would "take everything" in a financial settlement has been found guilty of attempted murder.
Ronald Seymour, 70, of Finchley, north London, shot Sonia Delvaille in the head the day before they were due at a court hearing in February.
Miss Delvaille, 65, and Seymour, who ran nightclubs in London's West End, were together worth almost £3m.
Seymour was told he would be jailed when he is sentenced on 27 October.
Judge Anthony Leonard said: "The sentence will be one of imprisonment - the question is how long."
The Old Bailey was told Miss Delvaille survived the attack but was left with brain damage.
Tesco carrier bag
Seymour had told the court he did not intend to hurt his ex-wife, claiming he had bought the gun to kill himself and did not know how it had gone off.
Jurors heard that the pair had been together for 40 years and had still lived together despite getting divorced in 1996.
Sarah Whitehouse, prosecuting, said Seymour was a controlling man who had been violent towards Miss Delvaille.
Miss Whitehouse said Miss Delvaille left her ex-husband in August last year and consulted lawyers.
A financial settlement was drawn up which would have resulted in the sale of the family home and another house.
It was as she left a meeting with her solicitor that Seymour turned up carrying a revolver in a Tesco carrier bag.
The pair were seen struggling moments before Miss Delvaille was shot three times in the head at point-blank range.
Seymour ran off and threw the bag, with the gun and bullets, into a river near his house where it was later found, jurors heard.
'Kind' person
Prosecutors said after his arrest he told police he shot Miss Delvaille because she had changed and had done bad things to him.
Miss Whitehouse said: "He said he was due in court the next day and he feared his wife would take everything."
During the trial he pleaded guilty to having a prohibited weapon with ammunition and not having a certificate for it.
A statement from the victim's family said before the shooting Miss Delvaille led a very active life.
It said she was a kind, caring and very forgiving person and a key member of a close-knit family whose lives had changed forever due to Seymour's actions.