London bus workers protest against spending cuts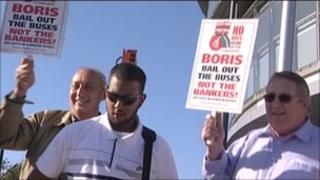 Hundreds of London bus workers held a protest at City Hall against government spending cuts which they claim will hit transport services.
The Unite union has said the coalition government's spending review next month will also affect wages.
It is currently balloting members at a number of London bus firms for action over pay and conditions.
Transport for London (TfL) said it wanted the bus network's importance to be reflected in the spending review.
'Low-paid drivers'
Unite regional official Peter Kavanagh said: "Londoners deserve better than this.
"Rocketing fares, contracted mileage and wage freezes will lead to a return to the bad old days of clapped-out buses: more infrequent, more overcrowded, disappearing from outer London - and driven by low-paid drivers.
"Boris Johnson talks the talk about defending London's interest, yet he campaigned hard for this Tory-led government that is now threatening all the progress of recent years."
A TfL spokesman said: "TfL and the mayor are strongly urging the government to fully reflect the importance of the bus network in the autumn spending review.
"Buses are the most widely used form of public transport in the capital and the number of people relying on them to get to work, to school, to the shops and to hospital is at the highest levels since the early 1960s and demand continues to grow.
"The bus network is the workhorse of the capital's public transport network, catering for more than 2.2 billion passenger journeys each year, and developing it is at least as vital as completing the Tube upgrades and building Crossrail."