Historic London districts 'rebranded' Midtown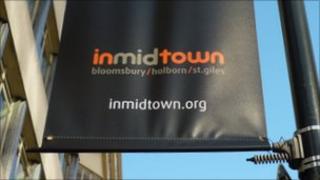 If you asked for a London cab to take you from Cityside to Noho via Midtown, the driver would probably respond with a raised eyebrow.
But all three are names given to central London locations that have faced rebranding in recent years.
Bloomsbury, where writers, intellectuals and artists congregated throughout the 20th Century, is home to the British Museum and is celebrated for its cultural history.
But the area, along with neighbouring Holborn and St Giles, is facing what appears to be a rebrand by local businesses, under the contentious new name of Midtown.
The term Midtown has been used for a number of years by estate agents hoping to promote the area's central London location and by hotels looking to attract US tourists.
But if you have left the Tube at Holborn station in recent weeks, you may have been greeted by men in orange jackets, handing out maps and calling themselves "inmidtown rangers".
Walk in any direction and you may have noticed lamp posts clad with flags boldly stating "inmidtown".
This is the work of Inmidtown, which represents the interests of more than 450 local businesses and hopes to raise the profile of an area that many see as something of an abyss between the City of London and the West End.
'Americanisation'
But many workers and local residents are not happy with what they see as a rebrand of the area.
Jane Parker, a graphic designer who has worked in Holborn for 20 years, said: "It's an estate agent term for people who actually don't know London."
"It would make more sense if there was an uptown and downtown, but instead we have a West End and a City."
Jim Murray, chairman of the Bloomsbury Association, which represents local residents, said it was "totally ridiculous" to try to rebrand the area.
"Midtown is an Americanisation," he said.
He says he wants Inmidtown to engage more with local residents' groups.
"We want to make them very aware that central London without its residents would be a ghost town," he said.
"And we'd like to see the flags removed".
But Inmidtown chief executive Tass Mavrogordato said the organisation has no intention of removing the flags.
"It will or won't catch on but it will always be our name," she said.
"How do you enable people to understand the quality of districts like Bloomsbury and St Giles when they're really quite small?" she added.
"In a big city like London, it's quite difficult not to need umbrella terms - like the West End and the City of London.
"We're trying to do it with this area - pull it together so people understand the commercial district."
Noho Square
Midtown is just the latest in a string of recent examples of new names organisations have tried to give to historic areas of London.
In June 2008, billionaire developers the Candy Brothers were criticised by angry Fitzrovia residents who accused them of trying to rebrand the area as Noho.
Nick and Christian Candy named an apartment building they were developing as Noho - supposedly meaning north of Soho - Square.
But they soon pulled out of the redevelopment and the name was dropped.
Elsewhere, estate agents have tried to rename Aldgate and Hoxton in east London as CitySide, and Elephant & Castle in south London as South City.
But sometimes it is residents rather than developers who campaign for a rebrand.
Last spring, Chrissy Tignor set up a Facebook group campaigning to change the name of West Hampstead Tube station in north-west London to East Kilburn.
"People in Hampstead mock West Hampstead at dinner parties," campaigners said.
"People in Kilburn won't do that - we won't feel superior to our East Kilburn neighbours."
So far the group has attracted more than 400 members.