Parents 'warned of windows' in tower where girl died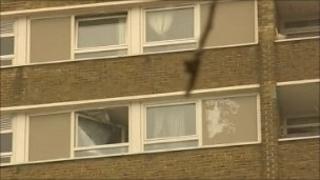 Parents at a tower block where a girl died after a 15-storey fall said they had raised concerns over its windows.
Leanne Minick, eight, was reportedly leaning out of a window at Sandall House in Tower Hamlets, east London, when she lost her balance and fell.
Now parents living there have told BBC London they repeatedly raised concerns over the windows' child safety with housing association Old Ford.
The housing association insisted there were no prior concerns.
A post-mortem examination was being carried out on the girl on Tuesday afternoon.
'Absolutely not safe'
One mother of a two-year-old girl said she had been complaining to Old Ford for the last year about the windows because she was worried about her child's safety.
And another mother, Sahra Mohamed, said: "It is absolutely not safe. The windows are not safe.
"They can't shut properly. When they are open the children climb on them."
Ms Mohamed, who applied for a transfer from the block in the aftermath of the tragedy, said she would only feel safe on the ground floor.
She added that her son had witnessed the death.
'Difficult time'
A spokeswoman for Old Ford housing association said: "It is devastating that the life of a young girl has ended so abruptly in this way.
"Our thoughts and sympathies are with Leanne's friends and family during this incredibly difficult time."
The spokeswoman added that the windows, which open inwards, were replaced in 2004 and had child protectors.
But windows left open on Tuesday appeared to be easily wide enough for a child to clamber through.
It is believed Leanne's mother, Clare Sicberras, and her partner, Ian Whitmore, were at the child's side before she was taken to hospital by air ambulance.
A scan was performed at the Royal London Hospital in Whitechapel before the inquest opens on Thursday, but it did not establish a formal cause of death, a Metropolitan Police spokesman said.