Festival marks East London Mosque centenary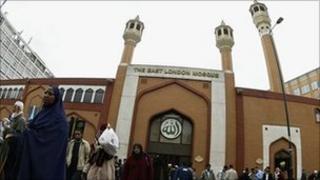 A special Eid festival has been held to mark the centenary celebrations of the East London Mosque.
The event at the London Muslim Centre in Whitechapel saw an exhibition, a bazaar, funfair and food markets.
Visitors could also find out more about the history of the mosque, which was first established in 1910.
A spokesman for the East London Mosque Trust said the event was the "first of its kind in the London borough of Tower Hamlets".
Landmark building
For a number of years the mosque had no permanent base and its members met in hired town halls and other community centres.
In 1941 they bought and renovated three houses on Commercial Street.
Three decades later the Greater London Council made a Compulsory Purchase Order (CPO) to enable the the widening of the A13.
In return the East London Mosque was given land and temporary facilities in Whitechapel Street and the current landmark building, with Dome and Minaret, was opened in 1985.