Annual free Thames river festival under way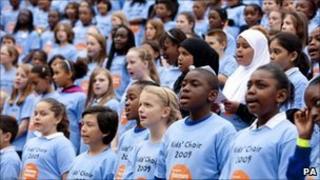 Thousands of people have gathered on London's South Bank for an annual free festival.
The 14th Thames Festival on Saturday and Sunday sees a whole host of events take place along the river from Westminster Bridge to Tower Bridge.
Visitors to the South Bank are being treated to boat races, fireworks, a night carnival, musical bands, a children's choir and art installations.
Festival director Adrian Evans said: "This is London's festival."
He added: "London owes its very existence to the Thames and we celebrate this wonderful city by dancing in the streets, feasting on bridges and playing by the river's edge.
"Thames Festival's focus is on creating participatory events for both young and old. It is free for everyone to enjoy.
"More than anything, this is London's festival."