Horse Guards Parade hosts 2012 beach volleyball event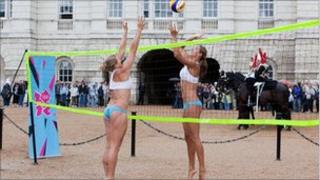 Westminster had a glimpse of its Olympic future when beach volleyball was brought to Horse Guards Parade.
Britain's Lucy Boulton and Denise Johns had a practice session at the central London site, where the 2012 competition is scheduled to be held.
A planning application to Westminster City Council for the temporary venue to be built is due to be submitted soon.
Local residents and businesses are being asked for feedback by the London 2012 organisers.
In helping launch London's bid to host the 2012 Games the then Prime Minister Tony Blair said: "It is a masterstroke by the organisers to site the beach volleyball in Horse Guards Parade, just outside the prime minister's window."
In 2012 96 athletes will be competing to try to win the two coveted titles.
The competition will consist of 24 teams, divided into six pools of four teams each during a preliminary round.
A total of 108 matches, split equally between the women and men, will be played during 14 days of competition.
Beach volleyball made its Olympic debut at the 1996 Atlanta Games.
USA and Brazil have shared all the gold medals in the subsequent Games, except in Sydney 2000 where the Australian women's team dominated.