EastEnders sparks London Fire Brigade warning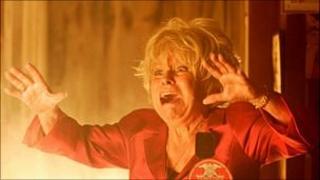 As millions prepare to watch EastEnders pub the Queen Vic go up in flames the London Fire Brigade (LFB) has said that too many people die in real fires.
Decades of brawls and bust-ups in the fictional pub come to an end during Thursday evening's show on BBC1.
But new figures reveal fires killed 50 people in London last year - a rise of 20%. The number of fires was also up.
London Fire Commissioner Ron Dobson urged the public to get a fire alarm and make an escape plan.
EastEnders writers have refused to say whether anyone dies in the disaster.
Speaking ahead of the episode, Commissioner Dobson said: "EastEnders is set to show how dramatic and distressing fire can be, but while we quickly forget about the latest television plot, the devastation of a serious house fire can stay with us for years.
Fires 'avoidable'
"If everyone gets a smoke alarm, checks it regularly and also makes an escape plan we can make a real difference and prevent deaths."
The LFB said most accidental fires could be avoided if people were more aware of how to protect themselves.
It warns over half of fires in the home start in the kitchen, often caused by cookers or pans left unattended.
Many people also die from fires that begin when they fall asleep while smoking.