Babestation model Lori Buckby fined for benefit fraud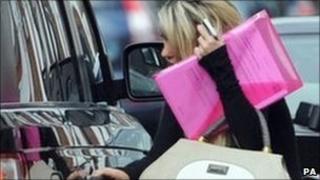 A glamour model and adult channel TV presenter who earned up to £4,000 a month has been fined for benefit fraud.
Lori Buckby, 25, of Battersea, south London, received a carer's allowance while she looked after her father who had had a stroke.
However Buckby continued to claim when her grandmother became the main carer after she got a job.
At South Western magistrates court Buckby was fined £1,000, ordered to pay back £2,406 and must pay £100 costs.
The glamour model worked for television channel Babestation and now sells soft porn pictures of herself on the internet.
The court heard Buckby had a close relationship with her father, who ran a gym in Leicester.
Explaining why Buckby claimed money she was not entitled to, Anne Crossfield, defending, said: "This was more a sin of omission rather than commission. Her stepmother had the idea she could claim the allowance.
"Miss Buckby signed the forms. She fully accepts she should have taken the time to read them."
'Very serious'
She added: "She's not a person who set out to pull the wool over people's eyes."
Buckby had admitted the fraud at an earlier hearing.
Passing sentence, chairman of the bench Mary Methuen said: "Obviously benefit fraud is something we take very seriously but we do feel this could be dealt with by way of a fine."
The Department for Work and Pensions welcomed the fine.
Lord Freud, Minister for Welfare Reform, said: "Benefit thieves are costing the taxpayer almost £1bn per year.
"This money is intended to help those most in need, not line the pockets of criminals."