Government backs London 'super sewer' plan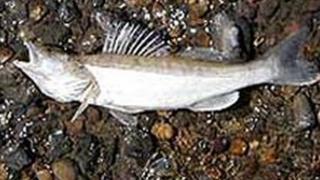 Plans for a £3.6 billion tunnel to stop raw sewage polluting the River Thames have been backed by the government.
The 20-mile (32km) so-called "super sewer" would run from west to east London, collecting sewage discharge triggered by rainfall.
Environment Secretary Caroline Spelman said a tunnel offered the most cost-effective solution to the problem.
Concerns have been raised about the cost of the plan to water customers and the long-term environmental gain.
A public consultation on the Thames Tunnel is due to start next week.
Giving her support to the proposals Ms Spelman said: "A tunnel continues to offer by far the most cost effective solution to the unacceptable problem of raw sewage being regularly discharged into the Thames.
"This is a large and complex project and I recognise that it comes at a significant cost.
"I will ensure that Defra and Ofwat continue to scrutinise the costs and options to ensure that Thames Water's proposals represent proper value for money."
Thames Water has estimated the cost of the planned tunnel to be £3.6 billion which could result in bill increases of about £60 to £65 per year for its customers.
In response to the government's announcement Thames Water said: "The problem is that currently 39 million tonnes of sewage discharge into the River Thames on average each year.
"This causes significant environmental damage, killing fish, polluting the river for those who wish to use and enjoy it and affecting the future of our capital city."
But Hammersmith and Fulham Council is against the plan.
'Gold-plated sewer'
Council leader Stephen Greenhalgh said: "We have consistently pushed for a shorter, smarter tunnel that minimises disruption to Londoners.
"The gold-plated 'super sewer' with a £3.6 billion price tag threatens our parks and will drive many hard-working families into water poverty to pay for it."
The Thames Tunnel, which would take waste to Beckton Sewage Treatment works, is part of a wider plan to upgrade the city's Victorian sewer system.
Work is also planned to improve London's five main sewage works and the Lee Tunnel is being built to deal with discharges into the River Lee.
A 14-week consultation on the Thames Tunnel, involving public meetings, exhibitions and a website inviting feedback online, begins on Monday.
Thames Water hopes to submit a planning application in 2012 with construction due to be completed in 2020.