Paralysed Briton 'stuck in Thailand' after crash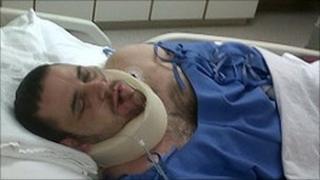 A British man is now stranded in Thailand after being paralysed in a road accident, his family have said.
Tom Moss, 26, from Tooting, south London, was left nearly blind and unable to move from the neck down after his moped hit a lorry and two cars.
Mr Moss did not have travel insurance, so is now stuck in hospital as his family tries to raise the £35,000 needed to fly him back home.
Mr Moss had spent six months travelling before his accident two weeks ago.
His mother, Gina Allaway, 53, has flown out to Thailand to be with her son, who is conscious but cannot remember the crash and finds it difficult to speak.
Mr Moss's sister, Jamie Harvey, 31, said her family felt frustrated by the difficulty of finding out what was happening to her brother.
She said: "It's just not knowing that's difficult - we try and get through to people but it's just not happening.
"We're just doing everything in our power to get him home. The problem is we haven't got any insurance to do it.
"He was living his dreams out there.
"It would be a big help for his rehabilitation for him to have us around him - we're such a close-knit family."
Private air ambulance operator Mediaviation is helping the family raise the funds to bring Mr Moss back to Britain, but so far they have only raised about £3,000.
The accident happened in the resort of Chiang Mai and Mr Moss is currently in hospital in the capital Bangkok.