Newham council 'to act' on shipping container squatters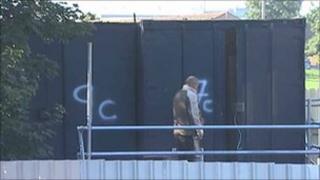 A council has said it is trying to remove homeless immigrants who have been living in shipping containers at the edge of an east London park.
The squatters have been living on the derelict building site on the edge of Star Park, in Newham, for two months.
One of the squatters, from Latvia, said he had been living there because he had "no work and no money".
A Newham council spokesman said the people occupying the site "had no right to be there".
The owner of the land said "he couldn't open the lock to the containers" to ask the squatters to leave.
"The people came the same day I brought the property."
A Newham Council spokesman said the council was "doing everything in its power to remove them".
"We will be working with police, immigration and the site's new owner to bring this matter to a satisfactory conclusion," he added.