London cabbie helps deliver baby in his taxi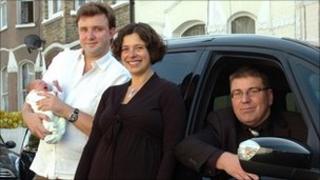 A London taxi driver ended up with an extra passenger after helping deliver a baby in the back of his cab.
Iain Coombes collected pregnant Ayse Sabuncu, 37, and her fiance, Matthew Scutt, 32 to take them to Chelsea And Westminster Hospital last Wednesday.
But Mr Coombes acted as a midwife as the baby boy arrived just after he pulled up outside the hospital and Mr Scutt went in to get help.
Emre Arthur Scutt, who was born a week early, weighed 6lb 7oz.
Mr Coombes, a former a City accountant, had picked up the couple in Wandsworth and was told they needed a lift to hospital for the birth of their first child.
But while crossing Chelsea Bridge, Miss Sabuncu realised the baby was on its way.
They pulled up outside the building with moments to spare and Mr Scutt, a software consultant, went to get help.
By the time he returned with doctors, he found the baby lying in his mother's arms.
"Looking back, it's all a bit of a blur," Mr Scutt said.
"However Iain did a fantastic job and kept his cool, and the staff at the hospital were excellent afterwards."
'Quite scary'
Miss Sabuncu said: "In the taxi I kept saying 'the baby's coming, the baby's coming', but I don't think anyone believed me until his head popped out."
She added the experience had been "quite scary" but she heaped praise on Mr Coombes for his calm handling of the situation.
"He was so helpful," she said. "He had to battle through traffic to get us to the hospital as quickly as possible and then afterwards he wanted to send us flowers immediately."
Mr Coombes said: "I've had many experiences as a driver, but nothing like this.
"I'm just glad everything went OK."