US agents 'lied to entrap' golfer Christopher Tappin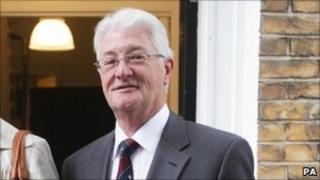 US agents "overstepped the mark of legitimate law enforcement" to entrap a retired British businessman, City of Westminster Magistrates' Court heard.
Christopher Tappin, 63, from Orpington, in south London, faces extradition to the US accused of conspiring to sell parts for Iranian missiles.
Mr Tappin, president of the Kent County Golf Union, denies the claim.
Ben Cooper, defending Mr Tappin, said US agents sought to entrap him with "lies and false assurances".
Mr Tappin, who says he was unwittingly caught up in a US customs sting, faces a possible 35 years in jail if convicted in a US court.
'Fictitious' company
US agents "overstepped the mark of legitimate law enforcement conduct" and effectively "caused the offence to be committed", Mr Cooper said.
Mr Tappin "was the victim of the unlawful conduct of US agents who pretended to belong to a company known as Mercury Global Enterprises", he added.
"This company was in fact fictitious and designed to ensnare importers such as Mr Tappin based in the UK."
The court heard that US agents "pretended to Mr Tappin that no licence was required" for the parts.
Mr Cooper argued the case did not fulfil the requirements for extradition because under English law "entrapment would render such a prosecution an abuse of process".
But, Aaron Watkins, representing the US authorities, said the allegation of dishonesty against Mr Tappin was sufficient for extradition to proceed.
"If he is conspiring with others, albeit others that are law enforcement officers, if he forms a dishonest intent, that's the end of the matter," he said.
Mr Tappin is a former director of Surrey-based Brooklands International Freight Services.
The extradition hearing continues.