London tourists cycle hire postponed until end of 2010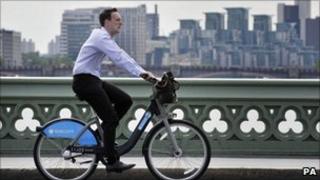 Tourists and casual users will be prevented from using London's cycle hire scheme until the end of 2010.
Registration was opened on 23 July with bikes hitting the streets a week later.
Transport for London (TfL) had said that from the beginning of September, the bikes would be available to casual users on a pay-as-you-cycle basis.
But it said it now wanted "to ensure the operating and distribution systems were as robust as possible before rolling it out further".
About 5,000 cycles are available across 335 locations in central London as part of the scheme.
'Teething problems'
London Mayor Boris Johnson said the delay would allow them to "learn about how people use the scheme, and it will allow Serco (the scheme's operator) to address any remaining teething problems".
TfL spokesman David Brown said it was still "early days" for the hire scheme and they were still learning about how it worked before "opening it up to casual users".
In August, thousands of cyclists were overcharged for using the scheme, although TfL said they had since been refunded.
Cyclists have to pay an access fee from £1 a day plus usage time, with the first 30 minutes of cycling free.
Transport for London (TfL) said 350,000 journeys were made in the first month of the cycle hire scheme.