Tube bosses and unions in talks to avert strike action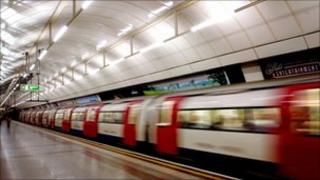 London Underground (LU) management is holding talks with two unions at the conciliation service Acas to avert a series of strikes over job cuts.
The first 24-hour strike by the Rail, Maritime and Transport union and the Transport Salaried Staffs Association is planned for 6 September.
The unions want LU to drop plans to cut 800 ticket office jobs which they say will compromise passenger safety.
LU said there would be no compulsory redundancies.
Howard Collins, LU's chief operating officer, said the management would listen to the concerns raised by the unions and try to work with them.
Strike dates
"London Underground needs to change, as it is not possible to go on with a situation where some ticket offices sell fewer than 10 tickets an hour," he said.
"We will be reiterating that these changes come with no compulsory redundancies, and that under our proposals all stations with a ticket office will continue to have one, and all stations will be staffed at all times."
RMT general secretary Bob Crow said: "After weeks of dragging their heels over talks around the issues of staffing levels and safety at the heart of this dispute, RMT is pleased that London Underground have now recognised the importance of using the negotiating machinery to open up discussions.
"RMT has always been committed to meaningful and structured negotiations which protect jobs, quality of service and the safety of both passengers and staff."
Overtime ban
Up to 10,000 union members are expected to walk out for 24 hours on 6 September, 3 October, 2 November and 28 November.
Transport Secretary Philip Hammond said: "We want to try and work with the trade unions. This is going to be a very difficult time, there is going to be a lot of change."
The TSSA has also announced that its members, managers and clerical workers, employed by maintenance firm Tube Lines will walk out from 0900 BST to 1700 BST on 7 September in a separate row over pay. They will also begin an indefinite ban on overtime.
TSSA general secretary Gerry Doherty said: "High-performing managers last year received no pay increase whilst many of the staff they manage received a pay rise of 4.2%."