'Bloodgate' doctor Wendy Chapman given a warning by GMC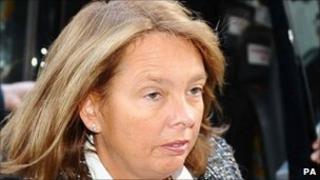 The matchday doctor at the centre of the rugby "Bloodgate" scandal has been given a warning by the General Medical Council's (GMC) disciplinary panel.
Wendy Chapman cut the lip of Harlequins rugby player Tom Williams to cover up a bogus blood injury and later lied about her role in the event.
The GMC ruled that Dr Chapman's fitness to practise was not impaired, despite her actions.
But it said her actions were not in the best interests of her patient.
She was suspended by the GMC last September and could have been struck off at the hearing in Manchester.
'Wholly unacceptable'
Harlequins were losing 6-5 in the 2009 Heineken Cup quarter-final against Irish side Leinster when Harlequins' Tom Williams bit a fake blood capsule.
Dr Chapman cut him to enhance the ruse.
Williams' supposed injury meant a specialist goal kicker could come on to the pitch as a substitute for Harlequins in the dying minutes of the game.
Leinster held on to win the match.
GMC panel chairman Dr Brian Alderman said it was "in the public interest" to issue a warning stating that Dr Chapman's conduct had been "unacceptable and should not be repeated".
Speaking on Dr Chapman's behalf following the hearing, her solicitor Charles Dewhurst said that the last 18 months had been a "nightmare for Dr Chapman and her family".
"All this has been a great strain," he said.
"She hopes it will be appreciated that she now needs space to get her life back together.
"She must also concentrate on obtaining the further treatment she requires following her breast surgery."
'Depressive disorder'
The GMC disciplinary panel said the warning would be published on the List of Registered Medical Practitioners (LRMP) for a period of five years.
It added that the warning would be disclosed to any person enquiring about Dr Wendy Chapman's fitness-to-practise history.
After five years, the warning would cease to be published on the LRMP but would be kept on record and disclosed to employers on request.
Dr Chapman admitted that she cut the lip of Tom Williams to try to cover up a fake injury and later lying to a European Rugby Cup (ERC) hearing.
The GMC panel was told that Dr Chapman had been suffering from a "major depressive disorder" before the incident. She was also awaiting the result of breast cancer tests.
Dr Chapman is currently recovering from breast cancer surgery, which took place in July.
GMC panel chairman Dr Brian Alderman said it was clear that Dr Chapman's mental health was "much better now" following treatment and that she was not currently suffering from depression.