'Bloodgate' doctor Wendy Chapman can practise again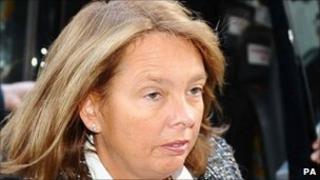 The General Medical Council (GMC) has ruled that the doctor at the centre of the rugby "Bloodgate" scandal can practise medicine again.
Wendy Chapman cut the lip of Harlequins rugby player Tom Williams to cover up a bogus blood injury and later lied about her role in the event.
Dr Chapman was suspended by the GMC in September 2009.
She could have been struck off the medical register if the panel had found her fitness to practise was impaired.
At the hearing in Manchester, the panel ruled that at the time of the events, her fitness to practise "was impaired".
But it said "looking forward", Dr Chapman's fitness to practise was not impaired despite her actions, which it said were not in the best interests of her patient.
The GMC also said her actions were dishonest, likely to bring the profession into disrepute and "wholly unacceptable".
Harlequins were losing 6-5 in the 2009 Heineken Cup quarter-final against Irish side Leinster when Harlequins' Tom Williams bit a fake blood capsule.
'Horrified' at lie
Dr Chapman cut him to enhance the ruse.
Williams' supposed injury meant a specialist goal kicker could come on to the pitch as a substitute for Harlequins in the dying minutes of the game.
Leinster held on to win the match.
Dr Chapman admitted cutting the lip of the player to try to cover up a fake injury and later lying to a European Rugby Cup (ERC) hearing.
The GMC hearing was told that Dr Chapman had been suffering from a "major depressive disorder" before the incident, which came to be known as Bloodgate.
She was also awaiting the result of breast cancer tests, the GMC panel heard.
Dr Chapman is currently recovering from breast cancer surgery, which took place in July.
GMC panel chairman Dr Brian Alderman said it was clear that Dr Chapman's mental health was "much better now" following treatment and that she was not currently suffering from depression.
"Normally such misconduct could be expected to result in a finding of impaired fitness to practise," he said.
"However, the circumstances of this case are wholly exceptional in that the expert medical evidence suggests that in the absence of depression you would have not acted in this way."
Last week, Dr Chapman told the GMC panel she was "ashamed" she had given in to pressure from Williams, who begged her in the changing rooms to conceal that, minutes earlier, he had bitten into a fake blood capsule on the pitch.
She said she was "horrified" that she went on to lie to an ERC hearing that the injury was genuine and supported the club's initial statement of innocence.
Her counsel told the panel she had been depressed at the time and her state of mind had clouded her judgment.