More noise for residents during Heathrow runway repairs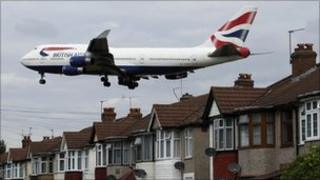 Residents living under the Heathrow flight path have been warned by the BAA to expect prolonged aircraft noise for six weeks due to "critical" repairs.
Most planes land from the east and take off facing west, but the arrival and departure runways are swapped daily.
From 13 September only the northern runway will be used for departures.
Planes make more noise during take-off, and homes under the north runway's flight path will now lose their half-day respite.
Up to 60,000 homes have been sent leaflets warning them about the work.
Residents living under the approach path in Battersea, Wandsworth, Putney, Barnes, Richmond, north Feltham, south Hounslow and Isleworth will have longer periods of noise from planes landing.
Those on the take-off route in Colnbrook, south Slough, Windsor, Datchet, Staines and Egham will get no break from the noise of aircrafts taking off.
Maintenance checks showed that concrete blocks which support some of the asphalt taxiways next to the northern runway could become unstable, causing the surface to break up, Heathrow operator BAA said.
The blocks will need to be replaced "to avoid debris getting into aircraft engines".
Alternation 'priceless'
Colin Wood, Heathrow's director of airside operations, said: "I know this news will not be welcomed and we want to convey our apologies to all affected.
"We would not suspend alternation if there was any other alternative. This work is critical to the future safe operation of Heathrow."
The 2M Group, which campaigns for communities affected by Heathrow operations, has asked BAA to finish the work on time.
Wandsworth Council leader Edward Lister, a spokesman for 2M Group, said: "We will be watching BAA very closely as the relief offered by runway alternation is priceless to local people."