Sun shines on glistening Notting Hill Carnival costumes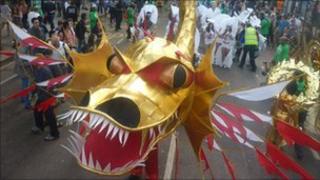 As a gargantuan glistening golden dragon, strapped onto 16-year-old Vernon Francis' back, turns onto Ladbroke Grove, Notting Hill Carnival's carnal throng can be seen far into the distance.
Foghorns echo and whistles blast, bedazzled tourists look on in awe, and the sweet smell of jerk chicken wafts through the air.
It is the moment members of carnival band South Connections have been waiting for. And they revel in it.
This year is the band's 25th anniversary, so it is even more special for them than usual.
Dancers with elaborately feathered costumes and ornately painted faces shimmy sensually as carnival anthems blare out from a sound system.
Beside the performers, boisterous local boys dance to the bellowing bass; ebullient bohemian types tuck into their fried plantain; and there is a sense of togetherness as a clamorous crowd cheers on South Connections.
'Having fun'
The band's junior king Vernon, wearing a gleaming golden dragon costume, said: "I enjoy the vibes, the dancing and the whole presentation of the band.
"I like seeing the different bands and ideas being brought together and dancing and having fun."
But he added: "It's a shame the carnival has to finish so early.
"That means less time to have fun, and it only comes once a year."
Notting Hill Carnival Ltd has made the start and finish times earlier over the years in an attempt to reduce crime and noise disruption.
Last year, carnival organisers set the finish time as "dusk" but this year they have been more specific saying sound systems must shut down by 2030 BST.
But Janet Allum Lai-Fook, from south west London, said she is "looking forward to dancing her feet off".
She explained her elaborate golden costume represents "a trophy to celebrate 25 years of South Connections".
'Carnival traditions'
It was an early start for Joan Francis, South Connections' band leader, who got up at 0600 BST to travel from Morden in south London.
"I've been involved looking designs, getting fabric, finding sponsors all year," said Ms Francis, who has been with the band for 25 years.
"I love to see people enjoying themselves and having a good time and I love seeing the costumes in all their glory.
"But when you've passed the judges and done your display, then you can just relax and have a good time.
"Our founders were from Trinidad and it's important to bring some of the carnival traditions from the Caribbean to London."
Ros Price, South Connections' chairwoman, who helped form the original band 25-years-ago, said her favourite part of the day is when "all of the costumes come out of the bags and go onto people's backsides".
"That moment is the first time you actually see whether the whole image actually works.
"Sometimes it doesn't and sometimes it just makes you gasp and think this is wonderful."
Meanwhile, Rhona Noel, 16, South Connections' junior queen, wore an elaborate feathered headdress and had her face intricately painted purple and green.
Ms Noel, who has been to has been to 14 carnivals, said: "My face paint represents the four elements - earth, fire, air and water.
"I love everyone from different cultures being together have a great time.
But she agreed with Vernon that "it's a shame it ends so early."
"When carnival started, people were celebrating their freedom," said Rhona.
"So let them celebrate it for that day
"Let it go on for longer."