Superbug hit baby ward at University College Hospital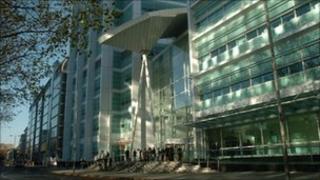 A superbug which infected four babies at a London hospital contributed to the death of one of them.
The babies were infected at the University College London Hospital neonatal unit with the so-called "gram-negative" bacterium in July.
The infection contributed to the death of one baby while two others died of unrelated causes. One baby survived.
The hospital said it did all that could be done to clear the infection and there have been no further outbreaks.
The babies were all described as "seriously ill" having been born prematurely and a number of factors, including the bug, led to the death of one of them.
The babies were among 15 at the unit found to be carrying several types of bacteria, of whom 13 had bugs resistant to treatment.
Of those, nine were carrying bacteria on their skin and four were found to have it in their blood streams.
'Opportunistic' infection
A hospital spokesman said: "Development of antibiotic resistance is unfortunately a common occurrence for all neonatal units, even more so in units such as ours which care for the most premature babies.
"During July we became concerned because we found particular bacteria on routine surveillance.
"We responded accordingly, including increased cleaning and changing our routine antibiotics to those which we knew would kill these organisms."
A Health Protection Agency spokesman said: "It is not uncommon to see outbreaks of infection in neonatal units caused by a range of bacteria with some level of antibiotic resistance.
"Premature babies are vulnerable to these types of infection, which are opportunistic and tend to affect the vulnerable, very young, elderly or those with a weakened immune system.
"The HPA is continuing to work with UCLH to monitor the situation."
The hospital confirmed that since the deep clean, no further outbreaks have occurred.