Arsenal player Jack Wilshere arrested after 'fracas'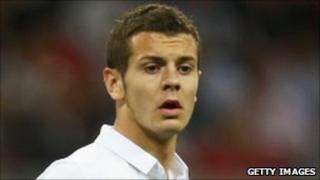 Arsenal and England midfielder Jack Wilshere was arrested in the early hours in connection with a "fracas".
A spokesman for the player said the footballer was held after the incident at 0245 BST in Kensington High Street, London, and later released on bail. Three other men were also arrested.
Emergency crews were called after a man suffered minor facial injuries and a woman sustained a broken arm.
Wilshere, 18, made his England debut in last month's friendly against Hungary.
But this week he was named in the England under-21 squad rather than remaining in contention for the senior side's Euro 2012 qualifiers against Bulgaria and Switzerland.
A Metropolitan Police spokesman said the four men - two aged 18 and two aged 21 - were taken to a west London police station and later bailed to return in mid-October pending further inquiries.
A spokesman for the player insisted the 18-year-old had been playing the "role of peacemaker" in the incident.
The spokesman said: "Jack Wilshere was arrested by police in the early hours following a fracas but was released on bail later.
"The police have made it very clear that he is an important witness to the incident and played the role of peacemaker and is unlikely to face any charges as a result.
"Jack has made it very clear he will co-operate fully with the police investigation."
Stevenage-born Wilshere came on as a substitute for Arsenal in the 84th minute on Saturday in his team's 2-1 win over Blackburn.
He has played in all three of Arsenal's Premier League matches so far this season, after spending much of last season on loan at Bolton, and is rated as one of the best young English prospects in the game.
A Metropolitan Police spokesman said: "Police were called at approximately 2.45am on Sunday 29 August following reports of an assault on Kensington High Street.
"Officers and London Ambulance Service attended and discovered a man and a woman suffering injuries.
"The woman had suffered a broken and dislocated elbow; the man was treated for a minor facial injury. Both went to a west London hospital for treatment."