British Museum alert will remain mystery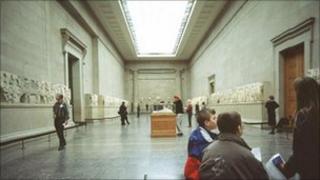 The British Museum has reopened after a suspected noxious substance left visitors with irritated eyes and throats, as managers admitted the cause of the scare will remain a mystery.
At least 8,000 people were evacuated from the British Museum on Saturday after what was described as a "gas" incident.
Police and the fire brigade moved in but have been unable to identify the cause.
Nobody was injured during the incident.
A British Museum spokeswoman said: "The fire brigade conducted a full search but could not find anything.
"They declared the site safe and handed back control of the museum at 5pm."
She continued: "The answer won't ever be known for sure.
"It was just a strange one-off incident."
A London Fire Brigade spokesman said: "When we arrived we used our equipment to carry out very extensive checks.
"We were there for about four hours. But we did not get any readings."
The spokesman added: "People may well have smelt something but it dispersed before we got there."