'Bloodgate' doctor 'had depression' in Harlequins role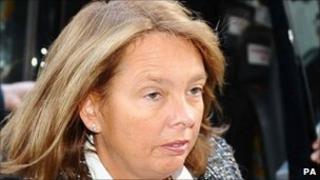 A rugby team doctor who cut a player's lip to help him fake an injury was suffering with depression, the General Medical Council has heard.
Dr Wendy Chapman's mental state meant she gave in to pressure from Harlequins winger Tom Williams to cut him so he could be replaced, her lawyers said.
The incident enabled Harlequins to field a specialist kicker, thus giving them an unfair advantage.
Dr Chapman could be banned from practising by the GMC.
Her lawyers argued that her fitness to practise was not impaired because she has now controlled her condition.
Fake blood
Mr Williams wanted to conceal that minutes earlier Mr Williams had bitten into a fake-blood capsule in last April's Heineken Cup rugby union quarter-final tie against Irish side Leinster who won 6-5.
Dr Chapman wants her interim suspension from medicine lifted by the General Medical Council.
Mary O'Rourke QC, counsel for the doctor, told the GMC fitness to practise panel: "The overwhelming context of her behaviour was her depression.
"She was feeling rubbish for a number of months and at the time. Her judgment was impaired then."
Cancer tests
The hearing heard has been told that Dr Chapman was suffering from a "major depressive disorder" before the incident, which came to be known as Bloodgate.
She was also awaiting the result of breast cancer tests, the GMC heard.
Dr Chapman is now currently recovering from breast cancer surgery which took place about five weeks ago.
The doctor has admitted most of the charges brought by the GMC.
She was cleared of an allegation that she said Mr Williams had a loose tooth in order to deceive others into thinking he had an injury.
The hearing was adjourned until Tuesday.