London Olympics water polo arena gets inflatable roof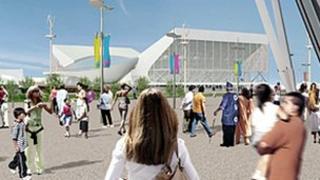 One of the venues for London's Olympics in 2012 will have a sloping, inflatable roof and will be designed so it can be dismantled and reassembled elsewhere.
The water polo arena will rise from the main pedestrian entrance to the Olympic Park in Stratford, east London.
It will seat 5,000 spectators and will be wrapped in a silver membrane, with special PVC padding in the roof to give extra insulation and cut condensation.
Building work is due to begin next spring and is expected to take a year.
The venue will have a competition pool, which will be 37m in length and 23m wide, and a smaller warm-up pool.
It is intended to be taken down once the Games are over and relocated.
It will be "a distinctive and dynamic addition to the entrance to the Olympic Park", said David Higgins, the chief executive of the Olympic Delivery Authority.
"Its innovative shape and lightweight structure will look great and work well for spectators and athletes alike, and it can be reused or recycled after the Games."