Family 'upset' at MI6 man claims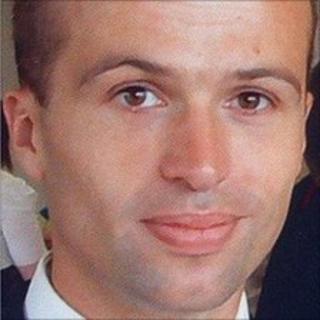 The family of an MI6 worker found dead in a central London flat are in a "state of shock", a relative has said.
The body of Gareth Williams, 30, was found in a holdall in the bath of his Pimlico flat on Monday.
His uncle William Hughes said Mr Williams' parents in Anglesey were "struggling to come to terms" with their son's death.
Ian and Ellen Williams were "upset" about the stories in the tabloids about their son, Mr Hughes added.
Police had thought that Mr Williams' body may have been undiscovered for about two weeks after his death in the flat in Alderney Street.
They have now confirmed that he was in London from 11 August and that the last sighting of Mr Williams was on 15 August.
His family have issued a statement which said: "Gareth was a generous, loving son, brother, and friend, and he was a very private person.
"He was a great athlete, and loved cycling and music. His loss has devastated us and we would ask that anyone with information to come forward and assist the police enquiry."
'Maths genius'
A post-mortem examination failed to identify a cause of death and further tests, including toxicological analysis of his blood, are due to be carried out.
The Metropolitan Police have not classified his death as murder but are treating it as "suspicious and unexplained".
Mr Williams, a keen cyclist, was on secondment to MI6 from his communications officer's role at GCHQ.
Ian Williams works at Wylfa nuclear power station and lives in Valley, Anglesey with his wife Ellen, while their daughter Ceri lives near Wrexham.
Mr Hughes, 62, a councillor on Anglesey, who is related to Ellen Williams, said: "I have spoken to Gareth's parents and they are not doing well at all.
"They are in a state of shock and struggling to come to terms with what has happened.
"It is heartbreaking that he has died so young and his family have enough on their plate without having to read these stories."
Some of the tabloids have reported on claims about Mr Williams' private life, which police will be looking into.
Mr Williams has been described as a "maths genius" who graduated with a first class degree in maths from Bangor University aged 17.
Officers searched the London property after his colleagues reported not having seen him for about 10 days.