Conman tenant jailed for £1m London townhouse sale bid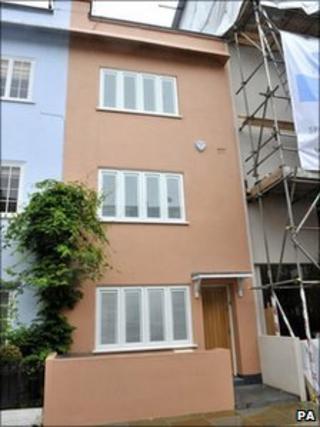 A conman who rented a town house in Kensington and Chelsea using fake identity and then tried to sell it for £1m has been jailed for three years.
Steven Rice, 43, of Hampshire, offered the townhouse in Donne Place for sale for £1m, nearly half its actual value.
He was caught trying to withdraw money after the sale using a fake driving licence, Southwark Crown Court heard.
He pleaded guilty to possession of a fake driving licence, a fake passport and acquiring criminal property.
Rice was a "front" for a gang who would rent expensive properties before attempting to sell them. Officers are trying to trace the rest of the gang, the court heard.
Sentencing, Recorder Philip Bartle QC said: "The fraud in which you played a part was undoubtedly carefully planned and orchestrated."
Rice assumed the identity of Stewart Knight and rented the home from the real owner, 83-year-old former Olympic yachtsman Vernon Stratton, through estate agents Knight Frank.
'The fall guy'
He and the gang moved in, changed the locks, and targeted developer Pall Mall, which purchased the four-bedroom three storey house.
A staff member at a Halifax bank caught Rice in March when he tried to transfer £850,000 of the sale proceeds to an account in Dubai, using a fake licence in Mr Statton's name.
The court heard that Rice, a managing director of a yacht refurbishing firm in Majorca, Spain, was to get £10,000 from the scam
Gavin Ludlow-Thompson, prosecuting, said: "This case involves the plundering of innocent persons' identities on a grand scale.
"The aim was to get control of high value properties in the Kensington and Chelsea area and then pose as the vendor of the property to sell it or raise funds by way of a mortgage loan."
Jacqueline Vallejo, mitigating, said Rice, was the "fall guy" who agreed to participate in the scam because the recession had hit his business.
He was sentenced to 18 months for possession of a fake driving licence, 18 months for possession of a fake passport and three years for acquiring criminal property.