Blackwall Tunnel work 'to finish six months early'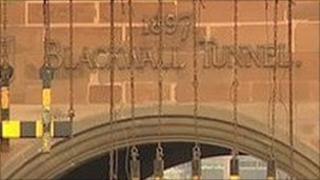 A facelift for the northbound Blackwall Tunnel is expected to be completed six months early so it reopens in time for the Olympic Games in 2012, Transport for London (TfL) has said.
Ventilation fans and flooring are being installed in the 113-year-old Thames crossing, along with new lights, CCTV cameras and communications systems.
The work has closed the tunnel at least five nights each week since February.
TfL said the £70m refurbishment should now be finished by July 2012.
Originally the upgrade was expected to last until the end of that year.
Fewer weekend shutdowns
"The teams carrying out and managing the refurbishment of the northbound Blackwall Tunnel have made exceptionally good progress," said TfL executive Garrett Emmerson.
"Because of this we expect to complete the essential safety and security upgrade at least six months early, in time for the London 2012 Olympics."
The tunnel will continue to shut between 2100 and 0500 BST on Sunday to Thursday nights, and on the occasional weekend, including 15 to 18 October.
But a planned weekend closure from 10 to 13 September has now been cancelled because of the quick progress, TfL said.
And it was hoped there would be fewer shutdowns at weekends in 2011, the company added.
Mr Emmerson said TfL was "committed to completing these works as quickly as possible, and with the minimum amount of disruption for drivers".