More London underground Tube strikes announced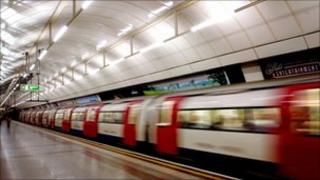 Up to 200 London Underground (LU) maintenance workers are to take part in a second wave of strikes.
Workers at Alstom-Metro depots on the Jubilee and Northern lines are protesting over pay and conditions.
The Rail Maritime and Transport (RMT) union said staff would stage four 24-hour walkouts starting on 5 September.
An Alstom spokeswoman said it "deplores RMT's call for strike action as the company believes a 2% rise represents a fair and reasonable offer".
'Pay cut'
On Wednesday the RMT union and Transport Salaried Staffs Association (TSSA) announced their members who work for LU would be holding monthly strikes over plans to cut 800 jobs.
The newly-announced action will take place the day before those strikes, meaning workers at the depots will strike from 1900 on 5 September, 2 October, 1 November and 27 November.
RMT general secretary Bob Crow said of the latest dispute: "Alstom is a major trans-national company that has been making immense profits and is happy to shovel dividends to its shareholders, but has offered what would amount to a pay cut to our members.
"The deal on offer is worth less than half of those won by other Tube workers this year, and the massive vote for action should tell Alstom all they need to know about our members' determination to win a fair pay deal."
An Alstom spokeswoman said: "RMT has accepted the same offer for its members employed at other Alstom train maintenance sites.
"Alstom has put in place contingency measures to ensure safe service on the Northern and Jubilee line fleets during the strike action and minimise disruption to passengers."