London woman fractures spine in honeymoon balcony fall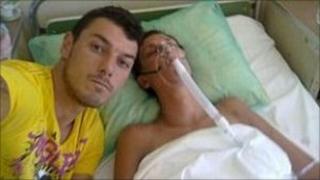 A London woman fractured her spine in three places when she fell up to 30ft (9m) from a hotel balcony while on honeymoon in Corfu.
The accident happened on 15 August, days after Carrie, 27, and Michael Dudbridge, 29, from Lewisham, south-east London, flew to the Greek island.
Mr Dudbridge had been trying to raise the £16,000 needed to fly his wife home as they did not have travel insurance.
A woman has now come forward offering to pay for the air ambulance flight.
The couple, who got married on 31 July, thought their European Health Insurance Cards (EHIC) would cover their expenses if they had an accident but it does not cover the cost of air ambulance repatriation.
On Thursday morning a woman, who lives on the island and wants to remain anonymous, approached Mr Dudbridge and said she would give them the money.
Mr Dudbridge, a builder, told BBC London: "She said 'I have seen you on the internet and I'd like to pay for you to go home'.
"I said 'What all of the money to go home?' and she went 'Yes, I'll pay that now, I'll transfer the money to you right now'.
"I cried with happiness. I can't explain it. It means so much, so, so much."
Mrs Dudbridge, a primary school secretary in Lewisham, fell from the balcony of their first-floor hotel room earlier this month.
A spokeswoman for Medi-aviation, the firm organising her repatriation, said they had been told that the donor would pay, "whatever the cost".
She added: "We have received the latest medical notes, which are in Greek. We are waiting for them to be translated in order to assess Carrie's condition.
"We will have to have confirmation from our medical team that Carrie is fit to fly."