London 2012 Olympic Games stadium bidding begins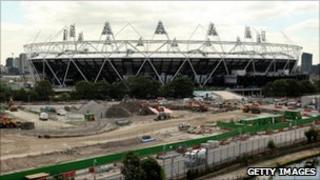 The formal bidding process to take over the Olympic Stadium after the London 2012 games has begun.
The Olympic Park Legacy Company (OPLC), which is overseeing the process, said there were more than 100 companies interested in the east London arena.
Any organisations wishing to take over the Stratford site now have six weeks to make their formal bid.
West Ham Football Club and AEG, which runs the O2 Arena, are both in the running, the BBC understands.
The OPLC has said the winning bidder must retain the stadium as a "distinctive physical symbol" and support the regeneration of the area.
Once the bidding period ends on 30 September, the OPLC will select a shortlist.
Margaret Ford, chairwoman of the OPLC, said: "The stadium is at the heart of the Olympic Park and securing the solution is crucial to our long-term aspirations for the area.
"We aim to have selected a tenant by the end of the financial year."
The stadium was designed to give future operators the option of reducing its capacity.